There is no denying that the Philippines is hot. Our country is as tropical as tropical can get.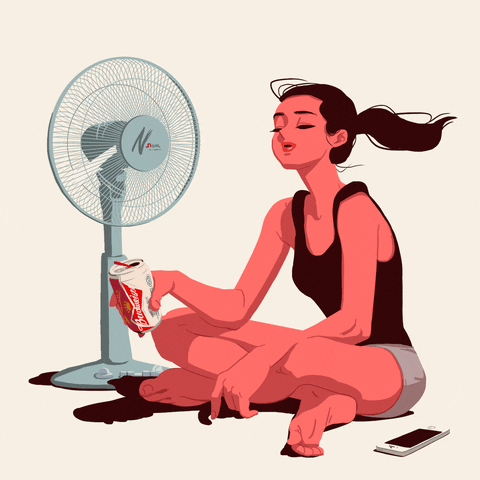 Given the scorching weather, we're blessed to experience—is blessed really the right word, though?—it almost makes no sense why we even buy sweaters and jackets, to begin with. Cardigans aside, it's best to calculate every move we make to help keep ourselves feeling cool and fresh. Going to the mall? Running an errand? Dropping off laundry?
Here are the 4 ways to survive Manila's heat
Heat Tip #1: Have a bottle of water close to you at all times
To clarify, the water bottle in this example is an insulated water bottle—not plastic ones. Although, tumblers and jugs are just as great, too! The bottom line is this: keeping hydrated can never be undermined. A cold drink of water helps lower your body temperature at any given time. Despite the intermittent rains, it's only fair to say it's still mostly hot. So whatever the climate, make sure to always have a bottle of water within reach!
Heat Tip #2:
Adjust your wardrobe
Since the sun isn't tempering down, the adjustments will clearly have to come from us. There's a whole science behind wearing bright colors and avoiding darker shades such as black and other similar hues. Because dark-colored clothing absorbs more light from the environment, it's only natural for those who don't wear lighter shades to feel more heat. They say you attract the kind of energy you wear for yourself—we're guessing this should also be taken literally for us, Pinoys.  
Clothes made of cooling fabric help a ton, too, since they're intended to retain more breeze. In other words, be extra picky with the clothes you wear and make sure you feel comfortable!
Heat Tip #3:
Invest in a portable fan
Never, in the history of compact devices, has a portable fan been so innately necessary in society. It's not going to stop any political bickering, but it will help you keep cool, so perhaps that's still a good thing? When you're stuck in a commute, whatever searing mode of transportation you've chosen for yourself, it helps to position the battery-operated heat repellent close to your neck and face and take all the light wind in.
Heat Tip #4:
Go for smart activities
Malls are usually a lot more packed during the summer. Aside from a surge of vacationing students, these large establishments meant for consumerism are also one of the fewest places that are expected to be cold. When you live in the big metro, staying out can be overwhelmingly upsetting. Air-conditioning seems to be a privilege not everyone can enjoy, too.
If you want to use the heat to your advantage, then get yourself a tan at the beach. Soak up the sun and embrace its piercing warmth. A good swim in the ocean is a perfect escapade for anyone who yearns for living their best life and breaking free from their normal routine.
If you're looking for other helpful and healthy tips on keeping fresh, sane, and friendly, visit Prime Life for more riveting reads.